Press Releases
Prospects for regional cooperation in South East Europe in 2011 and beyond focus of the 3rd RCC anniversary celebration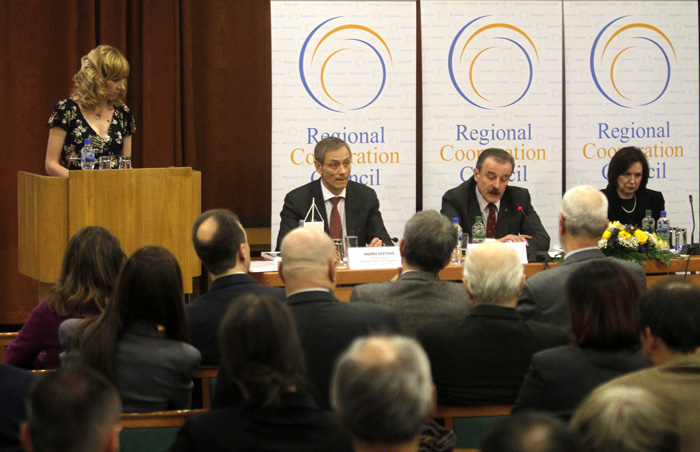 SARAJEVO, 4 March 2011 – A panel discussion South East Europe in 2011 and Beyond: Sharing the Same Vision will be held in Sarajevo, on Monday, 7 March, to mark the third anniversary of the Regional Cooperation Council (RCC).
The panellists will include Hido Biscevic, RCC Secretary General; Andris Kesteris, Principal Advisor, Directorate General for Enlargement, European Commission; Jasminka Kronja, co-author, Regional Initiatives and Multilateral Cooperation in the Balkans; and Visnja Samardzija, co-editor, From the Lisbon Strategy to Europe 2020.
The discussion will focus on the state of regional cooperation in South East Europe in 2011, the implementation of the RCC Strategy and Work Programme 2011-2013, as well as the RCC role in light of the European Commission's Enlargement Strategy 2010-2011 and Europe 2020 Strategy.
The event marks the third anniversary since the Regional Cooperation Council has been established at a historic meeting in Sofia on 27 February 2008, that demonstrated dedication to strengthen regional ownership and cooperation in South East Europe.
Journalists are invited to the panel, followed by a cocktail reception, on Monday, 7 March 2011, as of 18.00 hours, at the Holiday Inn hotel, Zmaja of Bosne 4, 71000 Sarajevo, Bosnia and Herzegovina.
Programme of the event in English is available HERE, and in Croatian HERE.
Welcoming speech by the RCC Secretary General is available HERE.
Speech and presentations:
The views expressed in the speech and presentations below belong solely to the authors and do not necessarily reflect the views of the Regional Cooperation Council and its Secretariat. The RCC Secretariat is not responsible for the content of the speech and presentations.
Andris Kesteris, Principal Advisor, Directorate General for Enlargement, European Commission
Jasminka Kronja, co-author, Regional Initiatives and Multilateral Cooperation in the Balkans
Višnja Samardžija, co-editor, From the Lisbon Strategy to Europe 2020
More news