Press Releases
Heads of State and Government of South East Europe praise work of Regional Cooperation Council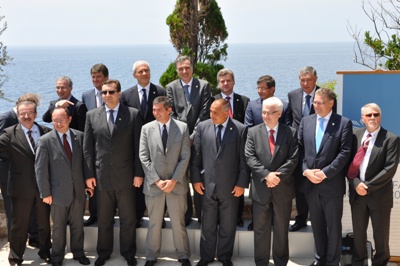 BUDVA/SARAJEVO – The Heads of State and Government of the South-East European Cooperation Process (SEECP) praised today in Budva the successful implementation of the Regional Cooperation Council (RCC) Strategy and Work Programme 2011-2013, endorsing the Annual Report of its Secretary General.
"We paid particular attention to the results achieved by the RCC in the implementation of the Strategy and Work Programme 2011-2013 from the last Summit, particularly in preparing the Regional Strategic Document 2011-2013 and the Action Plan in the area of Justice and Home Affairs adopted recently, preparing for the transfer of the Investment Committee for SEE from the OECD to the RCC, completing the transfer of the 'Ljubljana Process' from the Council of Europe to the RCC and the establishment of its Task Force for Culture and Society, the establishment of the Regional School for Public Administration (RESPA) and other successful results by the RCC as appraised also by the RCC Annual Meeting", reads the Budva Declaration adopted by the region's leaders.
The Heads of State and Government called upon the donor community to continue with the assistance and support to the region in light of the priorities related to the implementation of the RCC Strategy and Work Programme 2011-2013.
"We reaffirmed our determination to forge strategic partnership for development and prosperity in South East Europe through elaborated regional recovery and development master projects, being fully aware of the need to add regional component to our national development strategies, in particular in the priority areas of infrastructure, transport, energy, communication and others."
"We highlighted the need to work through the SEECP and with the RCC to elaborate further on concrete projects and initiatives with trans-regional potentials."
The region's leaders praised the synergy established between the SEECP Chairmanship-in-Office and the RCC and called upon the latter to continue the streamlining of task forces and initiatives in South East Europe through the set up of a coherent grid of those affiliated to the RCC.
They reconfirmed the inclusive character of regional cooperation in South East Europe and stressed the importance of active participation and contribution of all RCC members to relevant regional activities.
Thanking the South East European Heads of State and Government for an unequivocal support, RCC Secretary General Hido Biscevic said there was no doubt that rapprochement, reconciliation and mutual trust are gaining deep roots in the region.
"Our citizens can only benefit from this. As we advance towards European and Euro-Atlantic goals, we are learning to transform our societies, demonstrating readiness to engage in genuine cooperation, as the best tool for profiling this part of Europe as a zone of stable and durable peace and development."
Secretary General Biscevic underlined that targeted, sectorial and functional regional cooperation can be the best platform to make full use of natural, geo-economic and human potentials of South East Europe.
"The time is ripe to pool around trans-regional projects in infrastructure, transportation, energy, waterways and other sectors."
"The Regional Cooperation Council, as a key forum for guiding and monitoring cooperation in South East Europe and for encouraging regional ownership, stands ready to generate an added value to such a comprehensive strategy, by working together with its members from the region, EU institutions and international partners."
More news