Newsletter 28/2013 - Our South East Europe
South East Europe has 'hardware' but lacks 'software' to fight corruption
Corruption is a phenomenon no society is immune to. However, there are those that are more heavily affected than the others. In the countries of South East Europe (SEE) there is hardly any walk of life in which corruption failed to raise its ugly head. Countries emerging from post-conflict situations, struggling with heavy socio-economic changes appear to be particularly vulnerable to it. Simultaneously, their common priority of European integration requires systematic addressing of corruption as a high-ranked item of the agenda early in the pre-accession process.
Beside individual national efforts in the region to tackle this negative phenomenon, there is also a regional dimension to it.
Regional cooperation in anti-corruption was initially established in 2000 as Stability Pact Anti-corruption Initiative, also known as SPAI, reminds Radu Cotici, Head of Regional Anti-corruption Initiative (RAI) Secretariat based in Bosnia and Herzegovina.
Within the years the cooperation has changed and now it is institutionalized as a regional initiative, namely Regional Anti-corruption Initiative, based on a regional treaty signed by nine countries from South East Europe (Albania, Bosnia and Herzegovina, Bulgaria, Croatia, the Former Yugoslav Republic of Macedonia, Moldova, Montenegro, Romania, Serbia).[1]
"Member countries convened to continue the regional cooperation on anti-corruption within the Regional Anti-corruption Initiative at the high level Forum Regional Anti-corruption Cooperation in South Eastern Europe: The Way Ahead, held in Zagreb in July 2013, where a Protocol Amending the Memorandum of Understanding was signed."
Cotici stresses that although there are considerable results, regional cooperation on anti-corruption has a lot of potential to be developed.
"Of course, the area is strongly linked to the political stability in the countries, but the actors on anti-corruption have to step aside from political matters, for corruption harms people no matter of their political orientation. On regional arena, anti-corruption efforts will be converged in a few regional policy documents, like South East Europe 2020 strategy and Regional Anti-corruption Initiative Work Plan, which certainly will be correlated."
RAI activities were directed towards supporting member countries in setting up their institutional and legal frameworks for fight against corruption, reiterates Vesna Ratkovic, Director of the Directorate for Anti-corruption Initiative, Montenegro.
"In that regard gatherings of young judicial practitioners and police are of special importance. Establishment of networks of practitioners, upon RAI initiative, in various anti-corruption areas including conflict of interest and return of property, provides opportunities for national experts to exchange experiences and ideas, discuss professional challenges and ways to overcome them."
According to Ratkovic, efficient fight against corruption is prerequisite for stability of a democratic society and rule of law.
"With that goal in mind, the European Union (EU) primarily stresses the need for a firm framework for elimination of corruption. Having in mind that both institutional and legal framework are mostly rounded up, we in Montenegro are now to analytically review these frameworks in order to enable priority application of law and achievement of measurable results."
In the forthcoming period of implementation of action plans for negotiating chapters 23 (Judiciary and Fundamental Rights) and 24 (Justice, Freedom and Security)[2] with the EU, Montenegro looks forward to the support through RAI and bilateral cooperation with its member countries, says Ratkovic.
"We believe that the mentioned Protocol giving the new mandate to RAI and by which we commit ourselves to continue cooperation and joint strengthening of capacities in the fight against corruption comes at the right moment. As it was done by Bulgaria and Romania in 2007, Croatia's accession to the EU will give a new boost to the [RAI] member countries to implement their integration agendas."
Liz David-Barrett, Director at Oxford University Corruption and Transparency Research Centre, Kellogg College, University of Oxford thinks that in the next decade, one priority for the region is to focus on fighting corruption in public procurement.
"This is a key area where public money is lost to corruption, and the consequences can be very negative because it means that hospitals and schools are built to shoddy standards, the population's health and education suffer, and also good companies are forced out of the market because they keep losing to corrupt competitors."
Yet, according to David-Barrett, this is an area where there is so much know-how about the best ways to clean up the procurement process, for example by introducing standardized procedures and electronic procurement.
"This removes many of the opportunities for corruption. And if this is done in a standardized way across the region, it can also help create a single market for supplying public services, particularly as local government outsources more of its service provision."
Addressing these region's needs RAI plans to put a stress on issues like prevention of corruption with a focus on public procurement, integrity of public administration, asset recovery and financial investigations.
"Our goal is to generate greater peer pressure among countries and hence provide momentum to their national efforts and at the same time to provide a forum for sharing experience and building a mutually supportive network of professionals working on aspects of anti-corruption, contributing to the building of a professional culture", says RAI's Cotici.
Looking at the broader picture, it is important for the region to build a culture of integrity among public officials and politicians, concludes David-Barrett, adding that much of the 'hardware' for fighting corruption is already being put in place – that is, countries have national anti-corruption strategies and they are introducing the laws, regulations and frameworks to fight corruption.
"This means laws against conflicts of interest and against bribery, as well as protection for those who blow the whistle on corruption, and better cooperation among law enforcement agencies. But these anti-corruption measures work best where the correct 'software' is also installed. That means building a culture in which public officials want to behave with integrity and they are empowered to do so by a supportive environment and a committed leadership."
---
[1] More information on RAI and its member countries available at RAI Secretariat's website at the following link http://www.rai-see.org/about-us/historical-background.html
[2] Chapters of the aquis available at European Commissions website at following link http://ec.europa.eu/enlargement/policy/conditions-membership/chapters-of-the-acquis/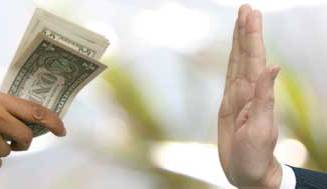 NEWSLETTER ISSUES