Newsletter 8/2010 - Our South East Europe
ECONOMIC PROSPECTS IN SOUTH EAST EUROPE, by Peter Sanfey, Lead Economist at the European Bank for Reconstruction and Development (EBRD)
The current economic situation in South East Europe ( SEE) looks quite gloomy. While other parts of the transition region seem to be bouncing back strongly after the economic crisis, SEE countries are struggling to record any growth at all. According to the European Bank for Reconstruction and Development(EBRD)'s latest growth forecasts (released on 22 October 2010), several countries are likely to see negative growth in 2010, including Croatia, Montenegro and Romania. Among the remaining countries, only the Albanian economy is forecast to grow by more than 2 per cent, with real GDP growth projected between 0.4 per cent and 1.6 per cent in the rest of SEE. The prospects for 2011 are slightly better – at least all countries are expected to record positive economic growth – but the rate of growth will be well below the levels seen in the pre-crisis boom years.
Why is SEE lagging behind in the recovery? To answer this, one has to understand the driving forces of the region's "growth model" during the past decade. In a nutshell, the strong growth rates recorded in virtually all SEE countries between 2000 and 2008 were driven by deepening integration – trade, investment and financial flows – with the global economy, and particularly with the European Union (EU). All SEE countries benefited from the resumption of trade links and routes, a massive increase in foreign direct investment (much of it privatisation-related), and a major expansion in banking services, particularly in the provision of credit to businesses and households. The benefits of this model were clear for all to see, but the downside became apparent only when the global crisis emerged. Many SEE countries were effectively living beyond their means – running high current account deficits – and relying on capital inflows from abroad to manage these imbalances. The sharp drop in capital inflows during the crisis has led to a major contraction in domestic demand as well as a collapse of confidence, and hence a serious recession in most countries.
It is important not to be too pessimistic about the region's prospects. SEE countries can do much better. The fact that the region lags well behind average EU standards in terms of basic economic development indicators such as GDP per capita underline the strong potential for catch-up growth. However, this catch-up will not happen automatically. Around the world, countries and regions can be stuck for decades in a low-level "equilibrium" if the right policies and institutions for growth are not in place. But in this regard, the SEE region is well placed to take advantage of a global recovery and resumption of capital flows. All countries are either in the EU ( Bulgaria and Romania) or have realistic prospects of EU membership in the coming decade, all have built up an impressive track record of structural reform, and the region has competitive advantages on wages and corporate taxes.
What SEE needs is not a fundamentally new growth "model", but rather a renewed focus on tackling aspects of the trading and business environment that prevent companies from achieving their full potential. In other words, the region needs a new growth "agenda" – one that puts at the forefront the promotion of exports and sustained improvements in the business environment.
Recent research at the EBRD has highlighted the importance of exports as a key driver of innovation and growth, as well as the obstacles that are most relevant for exporters in different countries.[1] In SEE, exporting firms typically cite corruption on the borders as a significant problem, rather than tariffs or non-tariff barriers. The research also shows that, for all businesses – whether exporters or not – the issue of corruption crops up repeatedly in surveys as one of the biggest obstacles to doing business. Other obstacles frequently mentioned by enterprise owners and managers include weak and bureaucratic tax administration, problems with the functioning of courts, the inadequate skills of the workforce as well as an insufficiently developed infrastructure.
In conclusion, the next 12 months are likely to be difficult for the region, but there is no reason to be pessimistic about the medium-term outlook. However, the previous drivers of growth – capital inflows from abroad and a credit-fuelled boom in domestic demand – are unlikely to return to the same extent as before. This is not a bad thing; sustainable growth depends on some fundamental reforms being put in place to enable the market economy to function better. What is crucial now is diagnosing the problem, with the assistance of surveys such as those carried out by the EBRD, World Bank and other institutions, so that reform-oriented policy-makers can move decisively in the right direction.
Peter Sanfey is a Lead Economist at the EBRD, where he analyses economic developments and reforms in South East Europe. He is also an editor of the annual EBRD Transition Report. He has a Ph.D. in Economics from the Yale University and had previously taught at the University of Kent at Canterbury. He has published widely in academic journals and volumes. Recently, he co-authored a book (with Christopher Cviić) entitled: In Search of the Balkan Recovery: the Political and Economic Reemergence of South-Eastern Europe, published in 2010.
---
[1] See chapter 4 of the EBRD Transition Report 2010: Recovery and Reform, available at: http://www.ebrd.com/pages/research/publications/flagships/transition.shtml.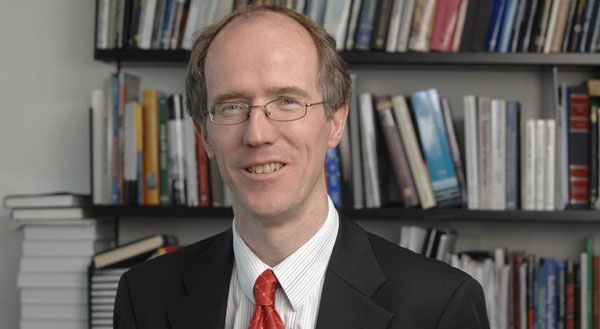 NEWSLETTER ISSUES