Newsletter 28/2013 - Guest Commentator
Ales Zalar
Director of the European Centre for Dispute Resolution (ECDR), Former Head of Supreme Court, Slovenia
Mediation - a new mode of governance for growth
Commercial disputes are inevitable because there are no perfect contracts. There are no deals in which all parties' interests remain constant throughout the term and in which all parties share an identical understanding of their rights and obligations. Opportunities arise or fail to materialize. Currencies fluctuate. Subcontractors go out of business. Government approvals are withdrawn. Public funding is not renewed. Natural catastrophes happen. All sort of contingencies occur that parties to the contract do not anticipate. Risks that were inchoate at the time of contract become real at some time down the road.
Full-blown disputes are always bad news for a company. They can lead to poor performance, scare investors, divert resources and, in some cases, paralyze a company. The utility of mediation and other forms of alternative justice is closely related to a degree of business risk aversion. Their added value is visible also when they are used in order to deal with corporate governance issues. According to International Finance Corporation's (IFC) Global Corporate Governance Forum, Focus 4, (2007), inadequate protection of minority shareholders' rights and corporate investors could be effectively overcome through mediation agreements. Investors are increasingly examining countries' corporate governance frameworks and companies' individual practices prior to making any investment decision. They review existing rules, effectiveness of enforcement procedures and companies' dispute resolution mechanisms.
Modern states and companies acknowledge that there are many ways to justice. That's why European Union (EU) declared mediation in both public (court-related) and private sector as a political priority. The Directive on Certain Aspects of Mediation in Civil and Commercial Matters regulates this field in cross-border disputes in the EU. Mediation is a flexible process conducted confidentially in which a neutral person assist parties in working towards a negotiated agreement of a dispute. Mediation as interest-based procedure can save a lot of time and money, preserve business relationship, provide more durable resolution and is considered as a justice with a human face.
The main challenge for the EU Member states and countries aspiring for this membership is how to make mediation a standard business practice in industry. Research studies reported that large companies tend to integrate dispute prevention, management and resolution into the general corporate planning processes. The study SME's[1] Access to Alternative Dispute Resolution (ADR) Systems, published by the European Commission in 2006, revealed that only 2% of business-to-business (B2B) disputes involving SMEs were settled through mediation and arbitration. The vast majority of SMEs (83%) that had been involved in disputes did not know what mediation, arbitration and other forms of ADR are. The lack of awareness about ADR is far greater with SMEs than with large companies.
In all Western Balkan countries there were some attempts in recent years to introduce mediation through regulatory framework, allowing for it, training of mediators and judges and through establishing free-standing mediation centres; however, demand for mediation remains extremely low. It is needless to say that economies of the Western Balkan countries largely depend upon SMEs which makes mediation initiatives even more challenging. National strategies and action plans for the rule of law development of the countries concerned envisage encouraged use and promotion of mediation. Nevertheless, it seems that cooperative and collaborative dispute design policy in this field could significantly stimulate referrals to mediation in domestic and in cross-border conflicts and disputes.
A new mid-term agenda proposal of the Regional Cooperation Council for the Western Balkan countries therefore suggests a new approach towards better risk management and governance for growth. In order to stimulate foreign investments and domestic economic, legal and social development, one of preconditions is to design independent, efficient, effective, fair and thus reliable dispute system. The draft project proposal is aimed at developing public multi-door courthouse model and private ADR model simultaneously. Multi-door courthouse model is based on the premise that the court should provide the most appropriate dispute resolution option for the particular case, whether that be litigation, mediation or other dispute resolution process. Upon this model, courts operate like restaurants since they provide disputants with a menu of dispute resolution processes in which mediation is offered as almost standard appetizer. Proposed policy approach is visioning a future where both court system and private ADR system function as a centralized intake, one stop shop and conflict diagnostic centre where disputants get advice and resolution. If initially chosen process fails, they could be driven to another door. Thus, as a follow-up initiative to the regional project proposal on mediation, an array of dispute resolution options should be developed and disputants could choose an appropriate facilitative (mediation), advisory (conciliation), evaluative (early neutral evaluation), adjudicative process (arbitration, litigation) or their combination (med-arb, arb-med), depending on assessment of costs, time, access, fairness, enforceability of outcome, duration of resolution and effect on parties' relations. The future of dispute resolution belongs to mediation and other forms of ADR. It is an unfinished business.
Ales Zalar, a Slovenian national, is President and ADR expert at European Centre for Dispute Resolution. Prior to that, among many prestigious duties Zalar served as Minister of Justice of Slovenia (2008-2012), a Senior District Court Judge, President of the Basic and District Courts in Ljubljana. One of many awards Zalar received was the medal of the Slovenian Supreme Court for his outstanding work achievements (2007). He is a founding member of the International Association for Court Administration, a member of administrative boards of the European Grouping of the Magistrates for the Mediation and, until 2008, a member of the Consultative Council of European Judges, a consultative body of the Committee of Ministers at the Council of Europe. Zalar graduated in law.
---
[1] Small and medium enterprises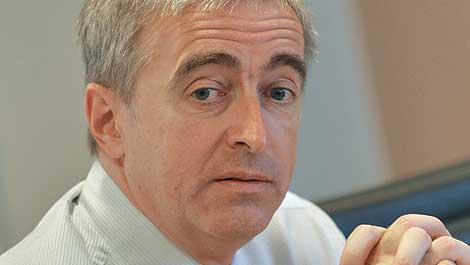 NEWSLETTER ISSUES