- Our South East Europe
INTERVIEW with Mirko Sarovic, Minister of Foreign Trade and Economic Relations, Bosnia and Herzegovina
Joint projects in South East Europe could create new opportunities in transport, renewable energy, environmental protection
Minister Sarovic, how do you see regional actions and the Regional Cooperation Council contributing to your efforts at the national level?
By signing the Stabilisation and Association Agreement (SAA) on 16 June 2008, Bosnia and Herzegovina assumed a number of obligations including, inter alia, involvement in regional processes, i.e. intensified regional cooperation. In this sense, the Regional Cooperation Council (RCC) has a very important role. It is a body that promotes regional development and regional cooperation in various areas through collaboration of national institutions – members of the RCC, and communication with the European Union (EU). Namely, the European Regional Policy is a cornerstone of the EU policy in general and, with the signing the SAA, it has also become important for Bosnia and Herzegovina. The aim of the regional policy, which rests at national level in terms of coordination but is implemented at lower levels of government, is to strengthen economic and social cohesion through various projects to the benefit of all, from state to local community. The fact that its Component III is related to regional cooperation speaks volumes of the impact of regional activities to the actions at national level. The implementer of all activities related to EU funds is Bosnia and Herzegovina, i.e. Directorate for European Integration in cooperation with other line institutions from state, entity, cantonal and local level. Having said this, it is clear that regional cooperation activities have very much intensified at all levels and that the Regional Cooperation Council is one of the important factors in the entire process.
Firmer commitments are being made by the national governments for regional cooperation, such as the commitment to establish joint developmental targets for South East Europe (SEE). Is the new era of regional cooperation being ushered?
I believe that the developments head in that direction. The times when national governments hacked out a way to development, including investment climate and attracting potential investors in fragmented economies, have their limits and restrictions, thus making it logical and expected to see the regional approach, at one point, being given its opportunity. Identification of common regional development goals, regional projects and common presentation are not just complementary to national development strategies. It is necessary to enhance and encourage ever more frequent interregional approach and distinct trend of cooperation among South East European countries in various areas and on various occasions. Further support to such an approach will generate multiple benefits, especially in the area of economic advancement and overall stability of the entire region.
What are the foreign direct investments trends in your country and the region, and would you say that the business environment is conducive to investment?
Foreign direct investments (FDI) in Bosnia and Herzegovina (BiH) are monitored by the Foreign Investment Promotion Agency (FIPA) and BiH Ministry of Foreign Trade and Economic Relations.
The overview of direct foreign equity registered with the relevant courts shows that the FDI trend in BiH is varying – for example, in 2009 total FDI amounted to around KM 277 million; in 2010 the FDI totalled to around KM 680 million; while in 2011 registered foreign capital amounted to KM 392 million. The trends observed in 2011 and at the beginning of 2012 give few reasons for optimism.
In cooperation with the World Bank and the International Finance Corporation, the Bosnia and Herzegovina Ministry of Foreign Trade and Economic Relations initiated a number of activities to improve business environment for foreign investors. I would like to particularly point out the activities on reducing administrative barriers and ease of doing business in BiH implemented through the Regulatory Impact Analysis provided through the Law on Foreign Direct Investment Policy of BiH. Joint activities will continue through the new World Bank project in BiH which is under preparation. The new project focuses on strengthening competitiveness and eliminating regulatory and administrative barriers to doing business in BiH by implementing activities in the area of regulatory reform, promotion of investment policy, agricultural sector, i.e. agribusiness, and strengthening export-orientation. The project therefore focuses on improving the overall business environment.
According to the reports focused on analysing 10 business areas, BiH is ranked 119th among 181 countries in the world, and 21st out of 25 countries in the Eastern Europe and Central Asia region. This is a clear message that we need to take actions to improve business environment which is one of the priorities of BiH economic policy.
Even though a lot has been achieved in regional economic integration, investors are still having problems viewing South East Europe as a consolidated investment space. Do you feel that there is an opportunity to do more in the area of regional investment promotion and facilitation?
With the exception of the Regional Cooperation Council and possibly a couple of more regional bodies and institutions, the region of South East Europe has no focal point for regional coordination and collaboration. This particularly refers to regional promotion, technical and organisational assistance to potential investors. If the first step is to guarantee the investors coming to a specific area, such is our region, the safety and security of their capital, the second is certainly successful promotion. If this promotion is of regional character and if the investment environment is consolidated and opportunities to invest are growing, all countries, and not just some of them, can expect to see benefits from this. Hence my support to the efforts focused on developing larger regional promotion of investments.
Do you see an opportunity for new intra-regional value chains to emerge, and in which sectors would you expect to see them?
I certainly do. I would even say that cooperation, partnership and coordination of various activities are in the development phase and that potentials of key sectors are far from being fully used. Especially in the area of regional security which has a potential for development of regional security infrastructure in the future. The real challenges are to be found in the area of infrastructure and energy, in particular. In addition to national approach, regional coordination, partnership and joint presentation and application would create new opportunities when it comes to transport, renewable green energy, environmental protection, etc.
Mirko Sarovic has been Minister of Foreign Trade and Economic Relations of Bosnia and Herzegovina since February 2012. Previously, Sarovic performed various duties some of which include: President of Bosnia and Herzegovina's entity Republika Srpska, member of National Assembly of Republika Srpska, President of the Executive Board of East New Sarajevo and East Sarajevo Mayor. Sarovic graduated at the Faculty of Law of the University of Sarajevo.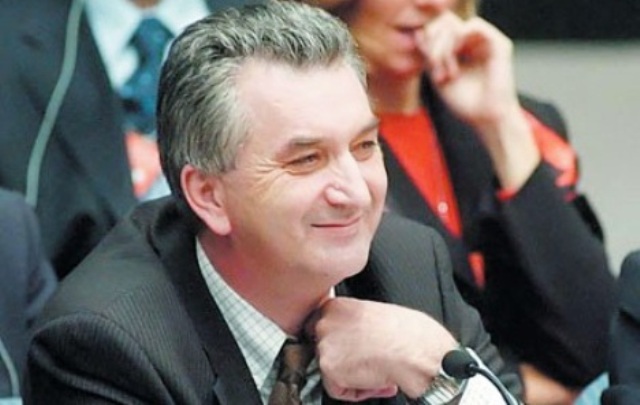 OTHER LANGUAGES
NEWSLETTER ISSUES