- Our South East Europe
INTERVIEW with Ljiljana Dzuver, Assistant Minister of Economy and Regional Development for Employment, Serbia
Employment policies should harmonize labour force with modern economy needs
Ms Dzuver, how is your country tackling the issue of (un)employment?
Institutional and legal framework for adoption and implementation of employment policy in the Republic of Serbia has been significantly improved in the last couple of years. Two new laws in this field have been adopted, the national employment strategy for the period 2011–2020 passed, and starting from 2009, annual national action plans are adopted. Creation and implementation of employment policy is a competence of the Ministry of Economy and Regional Development, while the National Employment Service and private employment agencies are implementing agencies in this area.
Employment policy is regarded in a wider context, as a part of general economic policy and is focused on job creation and promotion of employment.
In accordance with the new Law on Employment active employment policy is, defined as a system of plans, programmes and measures aimed at increase of employment and decrease of unemployment. Principal instrument of this policy is national employment action plan adopted on annual level. Implementation of various measures of active employment policy is intended to affect labour market movements with a view to reducing unemployment, creating new jobs, restructuring economy, supporting regional development and decreasing structural mismatch between labour demand and supply, both from the aspect of supporting geographical mobility and qualifications structure i.e. boosting professional labour force mobility. Special attention has been devoted to employment support for all categories of hard-to-employ i.e. or vulnerable groups on the labour market (young people, women, persons with disability, Roma, refugees and internally displaced persons, rural population, long-term unemployed, older people, single parents, victims of family violence, victims of human trafficking, beneficiaries of social financial assistance), with the aim to enable their easier inclusion into the labour market. To that end, I would like to mention that the effect of the new Law on Vocational Rehabilitation and Employment of Persons with Disability is visible. The Law, inter alia, introduces obligation for all employers with over 20 employees to hire these persons and as a result around 7,000 persons with disability got employment over the period of three years.
What would be your assessment of the current labour market situation when it comes to demand and supply of knowledge and skills?
Negative trends of employment decrease and unemployment increase from the 1990s have continued for the most part of this decade, even in the years of the highest economic growth. Benefits of economic growth were transposed to population through wage increase and not through increase in employment.
Unemployment in Serbia is high, given that 24,4% of working age population (15-64 years) was unemployed in November 2011 (691,000 persons), according to data from Labour Force Survey. Number of the unemployed as well as the unemployment rate has been continuously growing since 2008 as a consequence of the impact of the economic crisis on the labour market. Particularly unfavourable feature of unemployment in the Republic of Serbia is high participation of long-term unemployment (around 74% of the total number of unemployed of working age have been unemployed for over a year). In addition, unemployment in informal economy amounts to 15,8%, which is 338,000 informally employed persons (working age population (15-64)). This figure mostly absorbs unqualified labour force. Earnings of employed in this sector are significantly lower than in the formal one and work in informal sector is also linked with low productivity, low occupational safety, poor working conditions and lack of social insurance.
National Employment Strategy for the period 2011-2020 analyzes main problems faced on the labour market, such as those relating to demographic trends in Serbia including labour migration, pronounced regional differences, present duality on the labour market, need for further strengthening of labour market institutions and educational challenge related to mismatch between labour market demand and supply, inconsistency of qualification system and vocational education with the European Union (EU) standards, etc. The document also lists strategic directions that will be pursued to resolve these issues, as well as priorities, goals and indicators for monitoring implementation of activities.
In terms of demand and supply of certain knowledge and skills, labour market policies should, to an extent greater than in the past, support enhancement of human resources aimed at matching labour force with the needs of modern economy. In order to achieve European trends and goals, education reform needs to be accelerated and finalized, particularly in the segment relating to adult education. In addition to easier access to education and professional training, it is also important to create attractive and stimulating environment conducive to learning that will draw as many people as possible. Among important aspects are also planning and implementation of education policy in accordance with real labour market needs. Embracement of the life-long learning concept would be a solution for improvement of efficiency of education and training, enhancement of human capital quality and mobility, but also for development of innovation and creativity. Equally, the role of entrepreneurial learning, in the context of constant changes, increased risks and growing market competition is great.
Intensive cooperation of relevant ministries, primarily those competent for education and labour market, but also for labour, social policy, as well as cooperation of other social partners like chambers of commerce, associations of employers, trade unions, etc. is of crucial importance for successes of all these processes.
Are there any initiatives that would bridge the gap between the existing mismatch of labour market supply and new requirements brought about changing business environment?
Considering the challenges in employment and on the labour market that the Republic of Serbia is facing, strategic directions and priorities defined in the National Employment Strategy for the period 2011–2020 are as follows: promotion of employment in underdeveloped regions and development of regional and local employment policies, fostering human capital quality, development of institutional capacities and expansion of active labour market programmes, on reduction of labour market dualities.
There are two initiatives that I would like to highlight: decentralisation of employment policy, and introduction of system for labour market forecasting and a system for monitoring and evaluation of active labour market programmes. Decentralization of employment policy entails strengthening of local level capacities for analyzing labour market needs, proposing measures and programmes through local employment plans, co-financing measures by local self-governments and central budget allocation for active labour market programmes, supporting operations of local employment councils through training of their members in analyses, monitoring and evaluation, as well as creation of new, specific measures for the local labour market.
The experience we draw from the last three years shows that local self-governments and social partners are definitely interested in such work. The result of the undertaken activities is co-financing of 126 local employment plans in 2011 and proposals for the same number of municipalities for this year. Activation of local self-governments to take part in the creation of employment policy on local level is obvious and represents a good example of cooperation with social partners and local authorities. Organisation of specific trainings based on local labour markets needs is also one of the ways for harmonisation local labour market needs with the labour force with adequate skills and knowledge. In the coming period local self-government should get a new role in creation of local employment policy, respecting all characteristics and specificities of local environment.
Another important initiative that I would like to mention is the establishment of labour market forecast and system for monitoring and evaluation of active labour market programmes (ALAMPs). Just finalized EU National Employment Service in Serbia project (EUNES)[1], financed from the Instrument for Pre-Accession Assistance 2008 (IPA), set a ground for the establishment of short-term labour market forecasting system and initial methodology for monitoring of active measures and programmes and evaluation of their effects. A new project (IPA 2011) that starts in a couple of months should build on the results of the previous one, first of all by improving methodologies and introducing them into regular activities of National Employment Service (NES). It should also help with the use of findings from surveys and reports (on occupations that would be in demand, specific knowledge and skills that are required), for every following employment policy planning cycle. Thus it should help with improving entire planning process but also with using the result for education planning purposes.
Does regional cooperation in this area contribute to a better position of the region in relation to the EU?
Good regional cooperation, particularly economic cooperation, would certainly have an impact on employment and labour markets in the region. Therefore, it is necessary to enhance cooperation amongst labour market institutions of the countries from the region, especially cooperation and exchange of experiences and good practices of public employment services. An example of good cooperation is the one achieved by regional employment services through networking, regular meetings and exchange of experiences in this field. Identical or similar problems faced on the labour markets, measures and programmes implemented, different experiences in implementation of specific measures, setting priorities and strategies that need to take us to the EU as well as the same legal harmonisation path that we need to pass, point out to the need for firmer cooperation at regional level and for common initiatives and projects. That is the shorter road for all the countries in achieving the set goals and therefore it is inevitable.
How do you see the role of the Regional Cooperation Council in promoting regional cooperation in this context?
The role of the Regional Cooperation Council is of vital importance, especially having in mind a broad scope of issues that it deals with, that is, its key role in leading and monitoring regional cooperation in the identified fields of action. Certainly, future priority should be put on fostering of established partnerships and cooperation of relevant actors in each of the areas on the regional level.
In the employment policy domain and considering determination of the Republic of Serbia to join the European Union, regional cooperation in the development of human resources field, harmonisation of employment policies with strategic directions of the European Employment Strategy 2020 and accompanying initiatives, exchange of experiences in this field and indicating examples of positive practices, initiatives and activities, are of extreme importance.
Also, exchange of experiences in the area of social entrepreneurship system development and that is, familiarisation with models of social enterprises, target groups, financial incentives, primary areas of work…, which is also one of the areas the Council deals with and plans to develop further, could significantly contribute to a more successful further development of employment policy targeting hard-to-employ categories of unemployed persons.
Ljiljana Dzuver has been Assistant Minister in the Ministry for Economy and Regional Development in charge of employment since September 2008. She represents Serbia in a Working Group on Human Resources in implementation of the EU Strategy for the Danube Region. Dzuver has over 25 years of work experience in the filed of labour, employment and economy in domestic and international, public and private sectors. She holds BA Degree in Law from the Law Faculty of the Belgrade University.
---
[1] http://www.eunes-project.eu/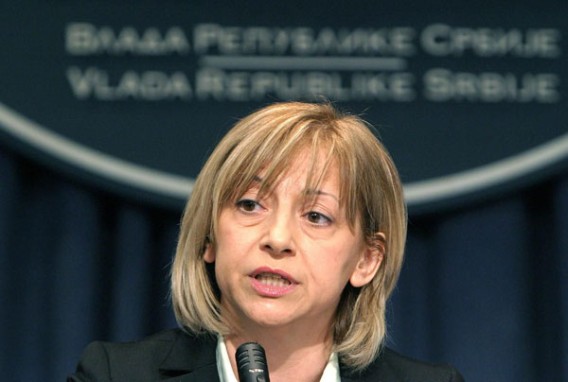 OTHER LANGUAGES
NEWSLETTER ISSUES