Newsletter 10/2011 - Our South East Europe
Regional Strategic Document advocates comprehensive approach to the rule of law in South East Europe
If a country wishes to successfully combat organised-crime, corruption, trafficking, etc. it needs to make strong two-way connections between its law enforcement forces, judges and prosecutors. The fight becomes even more complex if it exceeds borders of one nation and spreads to the whole region, mobilising several law enforcement and judicial systems.
South East Europe has experienced many challenging issues that require involvement of police forces from several countries of the region or prosecution of criminals for crimes committed in those countries.
The past experience pointed out to the weakest spots in the systems of individuals countries but of also of the whole region. It proved that regional police cooperation is relatively advanced, while judicial cooperation is still to be enhanced and improved in a number of different areas.
Regional Strategic Document (RSD) on Justice, Home Affairs and Security Cooperation for 2011-2013, developed by the Regional Cooperation Council Secretariat together with various stakeholders from the region, is designed to streamline and coordinate regional activities in the area of justice, home affairs and security. By enhancing regional cooperation, the RSD aims to harmonise legislation and practices with the EU requirements but also to best suit the region's needs.
The first objective of the RSD is to provide a synthetic guidance on the existing programmes or plans focusing on South East Europe, and to help harmonize donor activities, avoiding overlapping and duplication.
As a state authority implementing the Bulgarian policy on protection of classified information, the State Commission on Information Security pays special attention to bilateral and multilateral cooperation with the national security authorities of other states on matters of mutual interest, says Tsveta Markova, Chairperson of the Commission.
"The exchange of classified information more often goes beyond the territorial limits of the countries, which requires guarantee of security. Discussing new perspectives for international cooperation in this field is of great importance for all South East European countries, especially when it comes to protecting the information and increasing the responsibility of national security authorities."
Another very important task in strengthening regional justice and home affairs capacities is enhancing courts' and prosecutors' cooperation.
Bostjan Zalar, a High Court Judge and Head of the Office for European Law at the Administrative Court of the Republic of Slovenia, underlines that in Europe cooperation in the field of training of judges is defined by certain well-established principles of governance, separation and sharing of power, institutional balance and judicial independence at national and EU levels – which are not always entirely or easily reconcilable principles.
Judge Zalar views the EU governance approach as very practical and useful development policy for South East European enlargement countries.
"But", he argues, "if the EU concept of governance and sharing the power is implemented faster than the development of general perception and mechanisms for securing judicial independence and separation of powers in those countries, this might lead to unintended negative consequences for the rule of law in the longer run."
Tackling all aspects of regional justice, home affairs and security cooperation, the Regional Strategic Document, accompanied by an action plan, is receiving support by all relevant actors from the region and beyond.
Jonian Molla, Expert on Justice and Home Affairs at the Ministry of European Integration of Albania, considers that the approach is clear – the Western Balkan countries have to work together in a very cooperative manner, to determine all the needs and gaps and to try to constitute the most appropriate framework to join EU.
"The RSD is expression of good will of all SEE countries, especially from Western Balkans, to contribute to further strengthening and consolidating coordination as a codification of all efforts, actions, and results that we have had until now. This document, I hope, will contribute to setting up a new order that will enhance progress."
Cecilia Ruthstrom-Ruin, Chief of Terrorist Prevention Branch of the United Nations Office on Drugs and Crime (UNODC), is of the opinion that the significance of the Regional Strategic Document is manifold, as it can greatly contribute to coordination of related activities by many regional and sub-regional bodies, thus avoiding duplication of efforts.
"It is important to have an action-oriented document, which takes stock of existing activities at the regional level in the area of justice, home affairs and security cooperation and which assesses what still needs to be done. The document will also serve as a footprint to indicate areas where additional efforts and resources need to be invested."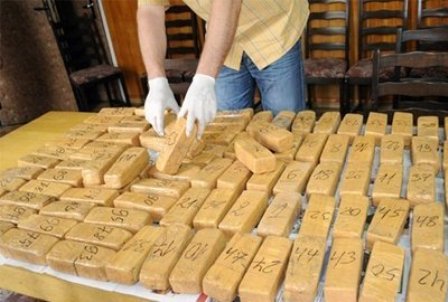 NEWSLETTER ISSUES