Newsletter 17/2011 - In focus
PARLIAMENTARY DIPLOMACY AS A POWERFUL TOOL FOR CHANGE, by Ranko Krivokapić, Speaker of Parliament, Montenegro
Almost a century ago Winston Churchill stated that "The Balkans produce more history than they can consume". The efforts that different organizations, dealing with the post-war reconciliation process in the Balkans, are investing in it might be the best confirmation of his good knowledge of our nature.
Being a lifetime parliamentarian, I have had countless opportunities to renew my knowledge on how parliamentary diplomacy can change the course of a country's history. A recent example is the one closest to my heart. Active parliamentary diplomacy, guided by strong wish to have an emotional task fulfilled, has brought me where I am today, representing the country that regained its independency after almost a century of belonging to a bigger and tutorial framework.
Spending almost a decade in the opposition, I have learned that parliamentary diplomacy can be a powerful tool for the voice of members of parliament (MPs) to be heard in places usually reserved for government officials. In the period of war madness during the 1990, the Montenegrin opposition has gathered in the old royal capital of Montenegro - Cetinje - and shouted to the world that the war in the Balkans will be the darkest page in our modern history and that the shame for running other ruler's war will soon replace the glory of bitter combat victories.
This was the reason why, during the difficult process when reconciliation in the Balkans was still looking like a glimpse on the horizon, parliamentarians from former Yugoslav republics had chosen to accept our invitation to come to Cetinje and make a first step towards that horizon.
Cetinje Parliamentary Forum, as an autochthonous regional initiative of the parliamentary cooperation of South East European countries, has been alive and active ever since. It represents an important form of encouragement and promotion of parliamentary dialogue between the countries of the region and the wider area.
So far, more than 1,200 members of parliament from the countries of the Western Balkans region as well as from the European Union (EU) member states have participated in the work of this parliamentary forum. They have discussed current issues in the areas of foreign policy education, culture, economy, security and many others in an open and direct manner. Two, or even three times a year MPs of EU applicant and aspirant countries come to Cetinje to exchange experiences with their colleagues from member countries and gather new, important information needed to speed up their own EU path.
There are still so many areas of cooperation that have not been used enough from a wide spectre of tools of parliamentary diplomacy. Recently, I have heard from an expert on EU integration that new EU member states not only cooperate very poorly on this supranational level but consider themselves adversaries in their cohabitation. Having in mind the size of the key players there, the conclusion is that many more good goals and solutions that contribute to the quality of everyday life could be easily solved if parliamentarians from those countries were to work together.
Today, we have more opportunities to gather than ever, in various parliamentary assemblies. We all have a chance to hear that at the moment there are grater problems than our own, and inspiring victories yet to be won.
Having in mind our current differences and our common perspectives in the region, I will finish with another inspiring Churchill Quote: "If we open a quarrel between past and present, we shall find that we have lost the future."
Ranko Krivokapic has been the Speaker of the Parliament of Montenegro since July 2003. Prior to that, he was elected member of parliament in eight mandates starting in the Parliament of Montenegro (1989) followed by the Parliament of Federal Republic of Yugoslavia (1993-1997) and the Parliament of the State Union of Serbia and Montenegro (2003 – 2006). Krivokapic is member of Presidency of the Party of European socialists – PES. He graduated Law and holds a master degree in International Relations from the University of Belgrade's Law School.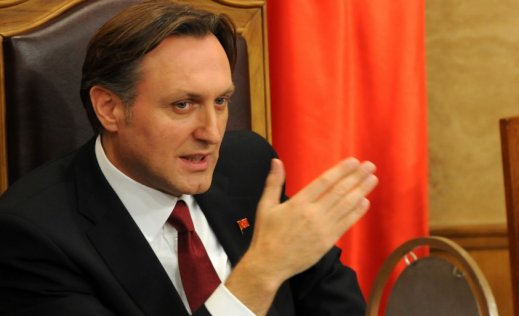 NEWSLETTER ISSUES