Newsletter 30/2013 - A Word from the Editor
Dinka Zivalj
Spokesperson/Head of Media Unit, RCC Secretariat
Time to move forward
Dear reader,
The time has come to say goodbye to the Regional Cooperation Council's (RCC) electronic newsletter. Not to worry, though: we will keep feeding you with all the relevant content about the RCC work. We will just do it using different tools.
We live in the world of fast changing technology, and to keep up with it we are moving forward to different tools of communication, aligned with new work challenges and requirements put before us with the recently adopted regional growth strategy leading South East Europe towards better 2020 (SEE 2020 strategy).
We have launched the e-Newsletter back in April 2010. The main aim of the publication has been to bring the work of the RCC and its Secretariat closer to European and South East European opinion makers and stakeholders, in a popular way that can be read with interest and understood both by experts and general public.
It has strived to make a positive impact on regional developments and contribute to creating a positive image of the region, ultimately trying to enhance mutual cooperation and European and Euro-Atlantic integration in South East Europe in order to inspire development in the region to the benefit of its citizens.
With these goals in mind, we have tried to include South East European and EU's finest representatives from all walks of life in the 30 newsletter issues published. Our contributors have included close to 250 individuals – from South East European prime ministers and ministers, ministers from EU member states, EU commissioners, MEPs, prominent representatives of business and academic community, civil society, etc. The publication has been circulated to over 3,000 regular subscribers and frequently referred to or carried by media outlets.
We have had a pleasure to host the names such as: Catherine Ashton, High Representative of the European Union for Foreign Affairs and Security Policy/Vice President of the European Commission; Stefan Füle, Commissioner for Enlargement and European Neighbourhood Policy; Cecilia Malmstrom, EU Commissioner for Home Affairs; Ilir Meta, Albanian Speaker of Parliament; Nikola Poposki, Minister of Foreign Affairs of The Former Yugoslav Republic of Macedonia; Ivan Mrkic, Serbian Foreign Affairs Minister; Eduard Kukan, Chair of the European Parliament's delegation for relations with countries of South East Europe; Peter Sanfey, Lead Economist at the European Bank for Reconstruction and Development (EBRD), and Gordana Kovacevic, President of Ericsson Nikola Tesla, to name just a few.
January 2014 will represent a turning point in RCC's communications and public relations approach. The e-newsletter will cease to exist in its current form making way for more dynamic and interactive communication channels. Respecting the all-inclusive nature of RCC Secretariat's work, we plan to expand our communication outreach to get through to as many various audiences as possible.
In order to get there, we plan to engage more in social media scene – Twitter, Facebook and You Tube, besides the already existing website that will continue to be the RCC's central public information vehicle.
The contents placed through these channels will be tailored to needs of wide-ranging audiences – general public, business community, academia, non-governmental and governmental sectors, etc. These interactive communication paths would allow you, our readers, to become part of our communication efforts by providing inputs and comments, thus leading us to create contents addressing your specific needs.
For the time being, if you have not done it already, please join us on Twitter, at @rccint. The Facebook and YouTube accounts will be active shortly, and you will be informed about them through the current subscription system.
The RCC communication team is looking forward to working with you in the years to come, hoping that it shall be to our mutual satisfaction and understanding.
I use this opportunity to thank all our contributors and readers. We shall keep you posted on everything we do and do our best to fulfil your expectations in the future.
Until we meet on a 'different virtual level', I wish you all the best in the coming New Year!
Dinka Zivalj
Editor
Dinka Zivalj, the first spokesperson of the Regional Cooperation Council (RCC), has joined the organisation's Secretariat in March 2008. A Croatian national, Zivalj has also served as Head of Press and Public Information of the OSCE Mission to Serbia; Spokesperson/Media Development Officer of the OSCE Presence in Albania, Political Officer of the OSCE Mission to Croatia, as well as with the public affairs office of the OSCE Mission to Croatia. Zivalj holds a Master's Degree in international relations and national security from the Faculty of Political Science in Zagreb, Croatia.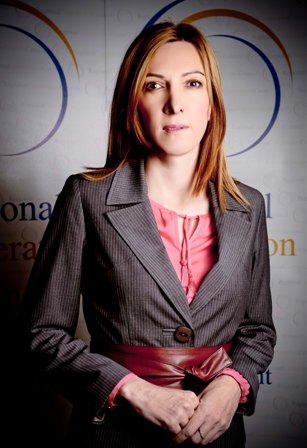 NEWSLETTER ISSUES