Newsletter 6/2010 - Guest Commentator
Sonja Stojanović
Director of the Belgrade Centre for Security Policy
Regional security cooperation between necessity and community building
Security cooperation among Western Balkan states could be taken for the most relevant indicator of stabilization in the region. This is because it presumes cooperation exactly among those parts of Western Balkan societies which were most active in recent wars. The example of such bridge-enforcement across a broken trust is the last month's signing of declaration on improving intelligence-sharing among nine military intelligence agencies from South East Europe (SEE) gathered in Belgrade at the initiative of the Regional Cooperation Council (RCC) and under the patronage of the Director of the European Union Military Intelligence Staff. Since security is traditionally considered to be one of vital elements of "high" politics and the policy in a strict domain of state sovereignty, the cooperation in this field is the clearest sign of mature and improved relations among participating states.
In order to promote sustainable conflict-resolution in the region, the European Union (EU) has put focus of Stabilisation and Accession Framework not only on developing capacity of individual states, but also on development of inter-dependent regional networks. As explicitly stated in the Political Dialogue Chapter of the Stabilization and Association Agreements, one of the forms of the regional cooperation that the EU member states are most interested in is cooperation in the field of Justice, Freedom and Security (JFS). This is no wonder since the Balkans and their truly regional crime networks are perceived in the EU as the exporter of crime and instability to EU member states, as it is evident from EU Organised Crime Threat Assessments. In order to effectively fight organised crime and corruption in each of the countries, it is not enough to build-up capacities of individual administrations, or set-up networks of bilateral cooperation, but it is also necessary to bridge security gaps by multilateral operational security cooperation.
The third reason why regional security cooperation is important for successful accession of Western Balkan states is that most of it was established upon the models of cooperation in the EU. Regional cooperation can serve as a practicing and learning ground for individual states about the modes of behaviour they will be expected to practice once they become EU members. The best example for this is the Regional Police Cooperation Convention for SEE, which assumes cross-border police cooperation set up to mirror police cooperation under the Schengen Convention. Such cooperation requires harmonising legislation, setting up complementary structures, building up professional networks and strengthening trust among participating countries in the administration of their partners. The RCC-sponsored regional initiatives can also serve as a prep school for the EU because they gather both aspirant countries, as well as new member states who can share lessons learned from their accession process. Successful participation of one country in regional cooperation also requires developed capacities for inter-agency policy coordination at home. In order to shade a light on challenges that a reforming security sector faces in establishing effective inter-agency cooperation, the Belgrade Centre for Security Policy (BCSP, formerly known as the Centre for Civil-Military Relations – www.ccmr-bg.org) carried an in-depth study of Serbia's capacity for regional security cooperation which will be published this autumn.
In order to make regional security cooperation sustainable, it is important to make it more transparent and inclusive. Benefits of regional coordination should be clearly communicated to domestic constituencies, and regional security community should be expanded to involve also legitimate non-governmental actors. While civil society organisations (CSOs) remain door openers for discussions on most controversial disputes in the region, such as cooperation with The International Criminal Tribunal for the former Yugoslavia (ICTY), they are seldomly informed about and involved in official security cooperation. They cannot and should not take part in operational cooperation, but they should be allowed to take part in policy discussions and provided with enough information necessary to practice effective oversight in democratic societies.
The Belgrade Centre for Security Policy initiated the creation of a Consortium of Western Balkan Security Think-Tanks in order to build a knowledge base on the comparative processes of security sector reform and regional security cooperation. Besides the BCSP, the Consortium gathers the following organisations: Analytica from Skopje, Centre for Security Studies from Sarajevo, Center for Democracy and Human Rights from Podgorica, Institute for International Relations from Zagreb, Institute for Democracy and Mediation from Tirana and Kosovar Centre for Security Studies from Pristina. The main product of this collaboration will be an Almanac of Security Sector Reform in the Western Balkans expected out of print next year.
This network will also work on development of the Regional Directory of SEE CSOs Specialized in Security Matters based on a model developed and implemented by BCSP in Serbia (see the Annex at www.bezbednost.org). The idea behind the Directory is creation of a platform for identification of most active organisations in the region so to be able to enhance networking among CSOs interested in security issues, as well as their cooperation with intergovernmental regional security initiatives. The production team of the Directory will be further extended with CSOs from Romania, Bulgaria, Moldova, Turkey and Greece in order to implement this project in the whole RCC region.
Sonja Stojanovic is Director of the Belgrade Centre for Security Policy, a leading Serbian think-thank specialised in security studies. She is also engaged as a Teaching Assistant at the Faculty of Political Science, MA in International Security. Stojanovic holds an MA in Politics, Security and Integration with distinction from the School of Slavonic and Eastern European Studies, University College London. She has extensive experience as a trainer and consultant for civil society organizations, international organizations and political groups in the Western Balkans. Her research interests are: regional security, democratisation and security sector reform, EU justice and home affairs.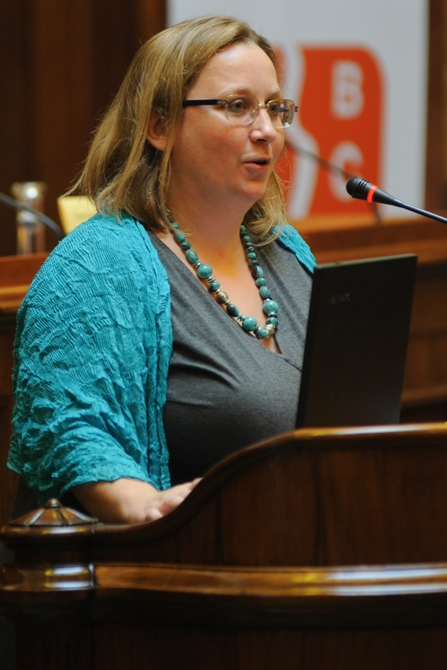 NEWSLETTER ISSUES