Newsletter 4/2010 - Our South East Europe
PARALLEL INTERVIEW: Milan Roćen, Minister of Foreign Affairs of Montenegro
Regional cooperation, the best way to strengthen stability and demonstrate responsibility when it comes to European and global security
Mr Minister, what is the added value the regional cooperation brings to a South East European country and the region as a whole, in particular in the context of EU enlargement?
Regional cooperation has a special place in contemporary international relations. In South East Europe and its broader context – considering its historical background and the most recent developments – it comes as a condition sine qua non of home and foreign affairs of each respective country in the region. It is also an indispensable prerequisite for the progress of the region as a whole. For the countries whose strategic objective is integration in the EU, it is also a formal condition for the progress in the integration process.
Even if it were not for this goal and this conditionality, it would be hard to conceive economic and general development of our countries without good neighbourly policy and without their multifaceted cooperation, bilaterally and regionally. It is the best way to strengthen regional stability and to demonstrate responsibility when it comes to European and global security. One can ask a simple question: how can we individually earn credit of a serious partner to the EU if we cannot define relations with our closest neighbours? I believe that all capitals in the region are coming increasingly closer to that understanding. The obligations that lie in store on our European path are ever more motivating for us to broaden our scope of cooperation and to address all issues of mutual and regional importance sooner rather than later.
What are the priorities of your country in regional cooperation, and especially of the Montenegrin 2010-2011 Chairmanship-in-Office of the South-East European Cooperation Process (SEECP) you took over from Turkey last month?


Montenegro, a modern country in its own right, was the first country in the long history of the Balkans that was created in a peaceful way – after the referendum conducted by highest European standards. Likewise, it is the only former Yugoslav republic that managed to preserve peace and ethnic harmony at the time of the Yugoslav tragedy. We kept our door open at all times for refugees of any religion and ethnicity who fled from the war-torn region. We managed to protect Montenegro from NATO bombing in 1999. It is Montenegro's precious political capital that has come to be respected by all the peoples and states in the region.
Regional cooperation is the key priority on our foreign policy agenda. We are committed to building stable political relations with all our neighbours. For a tourist country such as Montenegro, free movement of people, free movement of goods and capital, and creating conditions for attracting foreign investments is vitally important. Building and modernizing transportation infrastructure, transport and energy networking and participation in joint projects for environmental protection and spatial planning, prevention and elimination of the effects of natural and other catastrophes and protection of the Adriatic Sea as an inexhaustible common resource – are vitally important for strengthening our economic and overall cooperation. Other priorities for us are: continuous improvement of cultural ties and cooperation in the field of science and education. Actually, for small countries like Montenegro there is almost no single conceivable field whose dynamic development can be imagined without regional dimension.
Montenegro chairs three very important initiatives this year. Apart from the SEECP, it chairs the Adriatic-Ionian Initiative and the Central European Initiative. We will primarily seek to promote authentic quality of each respective initiative in order to pre-empt "triplication". I do not think that each chairmanship should "start from scratch", nor try to "invent" priorities by all means. We will take up from where Turkey "stopped" after its successful SEECP chairmanship and work closely with Serbia that will take over the chairmanship from us next year.
Montenegro will work on promoting democratic values and European standards as the spinal cord of regional development and cooperation of member countries. We will work on enhancing public-private partnership as an instrument of structural reforms and economic development in all projects that are of common interest for better lives of our citizens, which inter alia requires building capacities of institutions for their better cooperation in fighting organized crime and corruption.
In your view, what are the 'lessons learned' and avenues of regional cooperation to be explored in South East Europe?
Montenegro is the youngest member of all regional initiatives. It comes as a great challenge to us but it is a great advantage, as well. Each regional initiative has a significant role and this will remain. That has always been an irreplaceable political framework for lasting reconciliation in our tempestuous region and it will stay that way. It has been the best framework for the progress that all the countries and the region as a whole have achieved, and it will remain so in the future.
In the meantime, some of the countries have reached their European and Euro-Atlantic goals, others have become candidates or potential candidates or they have become part of the East European partnership. For us who strive to reach those very goals, the experience of the countries that are part of regional initiatives is simply irreplaceable. Most importantly, those countries want to generously share that experience with us. We can confirm this, because all other countries have started their integration processes before us. This is where I see our advantage. In the beginning, bringing representatives of all the countries to the table was the most important achievement. We have completed this important phase successfully. Now it comes the time to streamline all our regional initiatives by turning to the project-driven model of cooperation. We have all come to an understanding that EU and NATO integration is impossible without good neighbourly cooperation and prior settlement of all open issues.
How is Montenegro coping with the effects of the current global economic crisis and do you see benefits of large-scale regional development projects in this context?
Global economic and financial crisis affects both big and small economies. Montenegro has not been spared either. From 2006 to 2008 we scored 7-11% annual GDP growth. Last year, the growth was -5%. However, we had an extraordinary tourist season and a dynamic inflow of foreign direct investments, the highest in Europe measured per capita. That trend has continued this year, too. There were no bankruptcies of big companies or banks, and no massive lay-offs.
Montenegro's favourable prospect lies in the fact that we are just about to launch big capital investments in infrastructure projects in transport, energy and tourism. Some of these are construction of a highway from the shores of the Adriatic Sea to the border with Serbia, reconstruction of the railway from Bar to Belgrade, construction of the stretch of the Adriatic- Ionian highway through Montenegro, connecting energy system with Italy through a transmission cable on the Adriatic seabed as well as other projects that are significant for the region at large. That will surely yield positive effects on our economy, and on the economies of the neighbouring countries alike.
What is your vision of South East Europe in ten years?
I believe that in ten years the European Union will include the entire continent and that in the meantime all our countries that wish so will become members of NATO. Reaching those goals is not an end to itself. I am confident that we will provide for more dynamic economic growth and development, as well as a higher living standard for our citizens through those processes.
How do you see the role of the Regional Cooperation Council in the years to come?
The RCC is the operational body of the South-East European Cooperation Process and it has the task to steer countries of the region towards developing cooperation in South East Europe through a regional framework that can back up European and Euro-Atlantic integration.
At the summit in Istanbul on 23 June 2010, the SEECP endorsed the RCC Strategy and the Work Programme for 2011-13, which will additionally strengthen the role of the RCC in the region. There are two components that are rather worthwhile in this regard. One is the strengthening of regional ownership and project-driven cooperation, and the other is broadening of institutional ties between the EU and the countries of the Western Balkans.
The role of Montenegro as the country chairing the SEECP in the forthcoming period will be based on those two elements combined with the strive to clearly profile mechanisms for the implementation of the agreed, concrete and feasible priorities and goals that member states have interest in. To that end, the cooperation with international financial institutions, particularly the European Bank for Reconstruction and Development (EBRD) and the private sector will be particularly important.
Speaking from the national perspective, I want to emphasize that the RCC, through the Strategy and Work Programme, supported Montenegro's proposal to have the headquarters of the Secretariat of the Working Group for Culture and Society in Cetinje, and it also supported the idea to institutionalize Cetinje Parliamentary Forum as one of the first regional frameworks for inter-parliamentary cooperation.
Milan Roćen has held the position of Minister of Foreign Affairs of Montenegro since November 2006. Before that, he served as Chief Advisor to the Prime Minister of Montenegro on political, foreign and military affairs. In the period 2003-2006, Mr. Roćen was Ambassador of Serbia and Montenegro to the Russian Federation and simultaneously non-resident Ambassador to Kazakhstan, Georgia, Kyrgyz Republic, Tajikistan, Turkmenistan and Uzbekistan.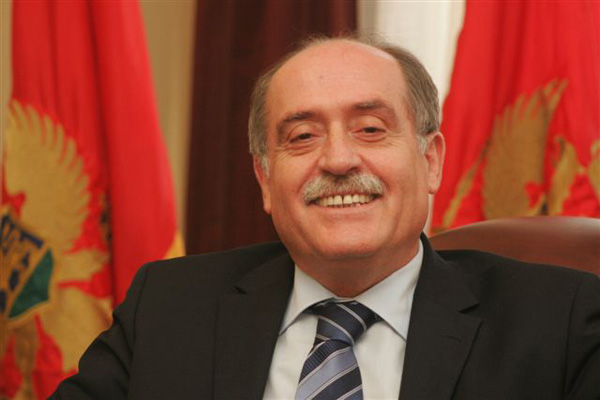 NEWSLETTER ISSUES