Newsletter 14/2011 - Our South East Europe
Serbian President Tadic and RCC Secretary General Biscevic discuss future of regional cooperation in South East Europe
President of the Republic of Serbia, Boris Tadic, visited the Secretariat of the Regional Cooperation Council (RCC) in Sarajevo, Bosnia and Herzegovina, on 6 July 2011.
President Tadic met with the RCC Secretary General Hido Biscevic to discuss the future of regional cooperation in South East Europe (SEE), during the Serbia's South-East European Cooperation Process (SEECP) Chairmanship-in-Office. During the meeting, he expressed full support to the work of the RCC ad its Secretariat.
President Tadic underlined that fight against organised crime would be the main priority of Serbia's Chairmanship.
"The SEECP will also push for continuation of EU enlargement process. Cooperation in energy sector, culture, joint work on major infrastructure projects, and building capacity to respond to disasters will also be priorities of the region during the next one year", said the Serbian President.
The RCC Secretary General informed the President of RCC activities in implementing the organization's Strategy and Work Programme 2011-2013 so far, expressing belief that the Serbian SEECP Chairmanship would bring additional synergy to its further implementation.
President Tadic and Secretary General Biscevic agreed on the importance of a strengthened regional cooperation, which represents a powerful platform for the realization of European and Euro-Atlantic perspective of the SEE countries.
"The recent SEECP Summit in Montenegro demonstrated the need to maintain and strengthen positive trends in the region and, through joint efforts, turn them into an irreversible progress of South East Europe", said Secretary General Biscevic.
"Such a platform should enable the region to pool around important projects in energy and infrastructure, and especially in transport."
The two officials also discussed political situation in the region and concluded that remaining open issues should in no way hinder regional cooperation and overall advancement of South East Europe.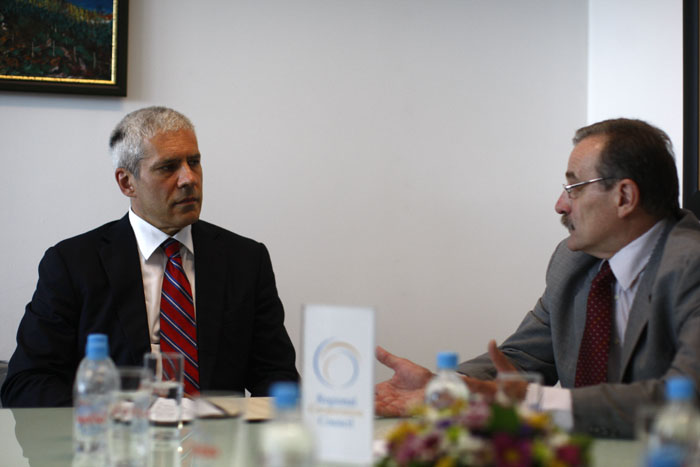 NEWSLETTER ISSUES