Newsletter 23/2012 - Our South East Europe
INTERVIEW with Gordana Comic, Deputy Speaker of the National Assembly of Serbia/ Member of the Working Group on Parliamentary Cooperation in South East Europe
We parliamentarians have to support regional cooperation: it contributes to social, democratic and economic development of our countries
Ms Comic, the sixth meeting of the South-East European Cooperation Process (SEECP) Parliamentary Dimension Working Group took place in Belgrade this September. It discussed a Comprehensive Report prepared by the former Serbian SEECP Chairmanship-in-Office, which represents an analysis of the existing proposals for the future of the SEECP Parliamentary Dimension. What would you highlight as the most important elements of the Report?
The last meeting of the South-East European Cooperation Process (SEECP) Parliamentary Dimension (PD) Working Group during our Chairmanship-in-Office represented an excellent opportunity to wrap-up the work from the previous year and sum-up results of the invested efforts aimed at institutionalization of SEECP Parliamentary Dimension. Two conceptually different proposals from Parliaments in Sofia and Ankara were analyzed as well as the third potentially compromise proposal prepared by the Serbian Chairmanship. There were discussions about goals and tasks of the future Parliamentary Assembly, composition of delegations, decision-making process, organizational structure and budget, with an aim to set up new framework of parliamentary structure in the region and to lift the existing cooperation process to a higher level. In this way, the SEECP Parliamentary Dimension would be both supplement and a corrective to inter-governmental cooperation within the same process.
During its term, the Serbian Chairmanship-in-Office of the Government of the Republic of Serbia defined priorities for action. Which were those priorities and were there some specific projects dealing with them?
Regional cooperation represents a priority of our country's foreign policy that contributes to its international affirmation and promotion of economic, cultural, scientific, tourist and other potentials. Also, cooperation within the region of South East Europe is one of key elements of the process of Serbia's European Union integration, and we are convinced that this is a priority interest for our neighbours too – equally for those that are already the EU members as for those that are on their way towards achieving this goal. We pay special attention to the development of relationships with the countries in the region: that is an essence to securing and strengthening stability, and fostering comprehensive good-neighbourly cooperation.
Therefore, it is necessary that we cooperate and advance existing initiatives, since they are a framework for dialogue and for finding common interests and solutions in various areas of life. That is why our country has attributed extraordinary significance to Chairing the SEECP in the past year or rather from June 2011 to June 2012, and with clearly defined priorities: continuation of democratic processes and promotion of European values with an aim of integration of all states from the region into the EU as fast as possible; deepening of institutional dialogue with the European Commission and other EU institutions; cooperation in the area of organized crime; overcoming of economic crisis and its consequences; strengthening of economic cooperation; attracting investments; improving regional cooperation in areas of environment protection; prevention and elimination of all kinds of disasters; cooperation in the filed of health, trade, tourism; promoting project-oriented cooperation through regional framework of the Regional Cooperation Council (RCC); implementation of as many as possible infrastructure projects in the region; improvement of cooperation in education, science, culture and youth. Special attention was devoted to advancement of parliamentary cooperation. The highest number of project in these areas was realized on the level of executive authorities of the countries in the region, and during the Serbian SEECP Chairmanship-in-Office a great number of experts attempting to promote cooperation in all areas were involved.
After having analyzed two institutionalization models proposed by the Bulgarian and Turkish parliaments, as a Chairman of the Working group, what has been identified as a compromise proposal in terms of structure, organisation, and operation mode of the future Parliamentary Dimension?
When there are two conceptually different models it is rather difficult to find the third, compromise one. However, we went ahead with this mission and in the end we can conclude that we have reached some kind of compromise. We have agreed on the representation manner of member countries in the future Parliamentary Assembly as well as on organizational structure that will make the Plenum, the three groups of Committees, which will deal with economy, infrastructure, energy, and also justice, security, social development, education, research and science. Besides the Committees, it is foreseen that there will be the establishment of ad hoc working groups and presidencies, comprised of past, current and upcoming chairs of the SEECP parliamentary dimension. Still, there are certain issues that remained open, such as the nature of the future Parliamentary Assembly's Secretariat, i.e. will it be international or permanent, and in relation with it the proposal of the budget, preparation of which was given to the regional secretariat for parliamentary cooperation in Sofia. Also, still undefined are the issues of quorum and decision-making manner of the future Parliamentary Assembly. Beside all this, I can say with satisfaction that during our Chairmanship of the process, essential progress was made and we passed a long way towards institutionalization of parliamentary dimension. Through each coming Chairmanship we shall, to the satisfaction of all, be closer to that goal. Certain disagreements that occurred I see as an expression of democracy and transparency of our cooperation.
In light of Serbian SEECP parliamentary dimension Chairmanship-in-Office initiatives, what do you expect in this domain from your colleague-successors from Skopje after taking over the Chairmanship?
The role of the SEECP is creation of new future for South East Europe, based on peace, democracy and economic prosperity, as well as on full integration of states of the region into European structures. The fact that all Western Balkans countries opted for joining the EU, requires that we undertake thorough reforms and establish new value systems. By working together in a great number of areas that are important for lives of our citizens, we send a clear signal to our partners in the EU that the region is building an attractive, stable and predictable economic and investment environment, ready to respond to developed countries' demands. It is of extreme importance that the countries from the region cooperate in harmonising legislation with the one of the EU, take common stands, positions and approach towards European institutions, especially in the spheres that will ensure better quality of life for citizens. As parliamentarians we have to further support cooperation, because we are certain it would contribute to social, democratic and economic development of all countries. I expect from my colleagues from [The Former Yugoslav Republic of] Macedonia to be devoted to these goals during their Chairmanship-in-Office, so we could finally define shape of new Parliamentary Assembly that will enable the voice from the region to be heard as one at the EU and in the whole world for that matter.
In the context of advancement of regional parliamentary cooperation, where do you see Regional Cooperation Council's role?
During our Chairmanship-in-Office but also before that, we have had excellent cooperation with the Regional Cooperation Council (RCC) in Sarajevo, which is the leading forum for identifying concrete projects implementation of which should satisfy real needs of the region. Parliamentary cooperation is one of the RCC's priorities and, as an overarching theme, it is included in all other priorities. We deem that the RCC is the most significant regional forum for dialogue amongst different countries, international organisations and donors' community and that is why we wish to thank for the efforts invested so far and to encourage future RCC projects, the aim of which is to continue activities on promotion of regional cooperation. Each of existing formats of inter-state cooperation but also each activity organized or coordinated by the RCC are an added element in constantly richer mosaic of cooperation in South East Europe.
Gordana Comic has been Deputy Speaker of the National Assembly of the Republic of Serbia (since 2001). She is also President of parliamentary Committee for Foreign Affairs, member and Vice President of Committee for Environmental Protection, Committee for European Integration. Gordana Comic is a member of Delegations of Serbian National Assembly at Organization for Security and Co-operation in Europe (OSCE) Parliamentary Assembly (2005-2012). In her early parliamentary career, she was member of Executive Committee of town Novi Sad, Vice President (2000-2001) and member of Vojvodina Parliament for two mandates (1996 -2004). Comic is an activist of a women's' movement and women's political network. By profession, Comic is a graduated Physicist.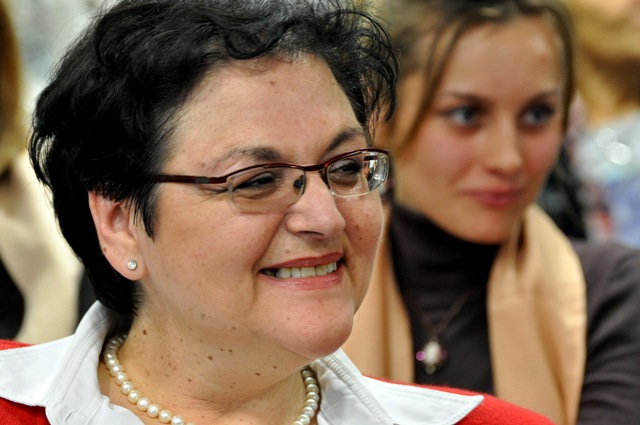 OTHER LANGUAGES
NEWSLETTER ISSUES