Newsletter 25/2013 - Our South East Europe
INTERVIEW with Zlatko Lagumdzija, Deputy Chairman of the Council of Ministers and Minister of Foreign Affairs, Bosnia and Herzegovina
Proactive approach and common responsibility necessary for successful regional cooperation
Mr Minister, you recently said that faster EU integration process, the North Atlantic Treaty Organization (NATO) integration and regional cooperation were three priority goals of Bosnia and Herzegovina's Ministry of Foreign Affairs, but also the three key internal issues for institutional transformation of the country. What specifically is your Ministry doing to achieve these goals?
The Foreign Affairs Ministry is a part of a wider mechanism that plays a "pivotal" role in the entire process. We are as successful as all other institutions in the responsibility chain are ready to fulfil the set goals. When it comes to the European Union (EU), our role is going to be even stronger at the moment when the Stabilisation and Association Agreement (SAA) enters into force and we submit a credible membership application.
The Foreign Affairs Ministry is by its nature turned towards foreign partners, inside and outside the country. Further development of relations with the EU, NATO and their member states, and with the countries of our region, requires strengthening of institutional capacities of the Foreign Affairs Ministry and our diplomatic representation offices. In this regard, through political consultations with our partners, we use their experiences for adoption of new solutions in the country.
Simultaneously, Bosnia and Herzegovina (BiH) is an active partner in all forms of regional cooperation, and we recognise it as our interest and not only as a Brussels-set requirement. Naturally, such activities are being carried out through the network at the Foreign Affairs Ministry's headquarters and the network of its diplomatic representation offices
We shall be continuously working to strengthen our Mission at the EU, in order to create an environment where we have less diplomats and more sectoral experts by acquis chapters in the future. The Ministry has the capacity to deal with the foreign dimension of our EU path, but we are also already establishing the monitoring system for security and foreign EU policy, which is one of the primary tasks of the Foreign Affairs Ministry of Bosnia and Herzegovina. We have already set a registry of accession to resolutions, restrictive measures and sanctions that the EU imposes against third countries, all with the aim to meet the SAA requirements, i.e. harmonisation of our foreign policy with the EU's foreign policy.
When it comes to NATO membership, we also have a coordinating role there. Deputy Minister of Foreign Affairs Ms Ana Trisic-Babic has been rather successfully coordinating our institutional efforts in order to have all obstacles removed for activation of the Membership Action Plan (MAP).
What would you say are the key weaknesses of the South East European countries in general and Bosnia and Herzegovina in particular in achieving a successful regional cooperation, and getting closer to the EU? Do you see a way to overcome these weaknesses?
There is readiness of all countries in the region for exchange of experiences and cooperation in both NATO and EU integration processes. We have had really good and useful contacts, joint seminars, experts' visits, etc. with all the states involved in the integration processes.
Experiences of the states form Central and Eastern Europe, especially those involved in the Visegrad Group, show that such cooperation has gained a new quality when the countries obtained candidate status and initiated EU membership negotiations. It is realistic to expect that such processes will happen in our region as well and that the issues from the past, still present to a certain extent, will gradually give more and more room to issues pertaining to our common future within NATO and the EU.
After Croatia joins the EU in July this year, Bosnia and Herzegovina will become an EU neighbour. What will this mean for its citizens?
As much as we thought that negative implications would prevail, I am convinced that positive effects of the forthcoming Croatian membership in the EU are dominant. We will share 1,000 km of border with the EU and have the opportunity to learn to live next to the EU, in accordance with its standards, which in the end should accelerate our preparations for the membership. It also imposes an imperative to harmonise all areas with the European standards that are in any case better than those we have in Bosnia and Herzegovina. There are many examples from recent history of countries that profited from EU accession of their neighbours.
Our contacts with Croatian colleagues at all levels are very intensive, with no language barrier, and that will certainly positively affect further EU Europeanization of Bosnia and Herzegovina.
Infrastructural projects and cross-border cooperation from energy to environment are concrete benefits that are mostly financed from rich, European funds. Therefore, I think that this would be a big change for the better for citizens of Bosnia and Herzegovina.
However, Croatia's EU accession also imposes a need for adjustment of some of the already reached agreements and their harmonisation with the acquis. Specifically, there is a need to adjust Neum-Ploce Agreement, which is certainly a completely new situation for the EU as well.
I can say with pleasure that, through a series of trilateral meetings on both expert and ministerial levels, and with active participation of the European Commission, we reached a solution that will satisfy interests of Bosnia and Herzegovina and Croatia, and our citizens, while simultaneously meeting the acquis requirements. Fulfilling requirements for export of products of plant and animal origin to our traditional market of Croatia and further to the EU market remains a big challenge and direct priority for us.
The Regional Cooperation Council (RCC) has recently marked its 5th anniversary. How would you access its work so far and what do you consider the biggest challenge in the years ahead?
The initial 5-year period of the RCC's work has been marked with important developments, the most important one being transition from a European-organised and controlled cooperation in the region of South East Europe to regional ownership. This is an important prerequisite for further strengthening of the regional component of our European story. During this period, some initiatives such as Southeast European Cooperative Initiative (SECI), Migration, Asylum, Refugees Regional Initiative (MARRI), Centre for Security Cooperation in South East Europe (RACVIAC), etc. became independent. For the future, it will be important to make sure that some other initiatives are taking the same path, in order to provide enough space for the RCC to operate within its mandate.
Also, I would like to stress how important it is for each country, member of the regional cooperation, to become more proactive, thus assuming the responsibility for implementation of what has been agreed. Common responsibility will surely lead to better implementation of what has been agreed, but also accelerate our passage towards higher European standards.
If 50% of the plan gets implemented in the next 3-4 years, the entire South East Europe can be optimistic about the region's catching up with the Western Europe and reaching the needed development parameters in accordance with European standards.
Zlatko Lagumdzija has been Deputy Chairman of the Council of Ministers and Minister of Foreign Affairs of Bosnia and Herzegovina since January 2012. He has already served as Chairman of the country's Council of Ministers of Bosnia and Herzegovina (2001 – 2002) and as Minister of Foreign Affairs of Bosnia and Herzegovina (2001 – 2003). He is a member of the World Academy of Art and Science (since 2006), Director of Management and Information Technology Centre in Sarajevo (since 1995) and the Head of Department of Business Informatics at the Faculty of Economics, University of Sarajevo (since 1994). Lagumdzija holds B.Sc., M.Sc. and Ph.D. in Computer Science and Electrical Engineering from the University in Sarajevo (1977, 1981 and 1988 respectively).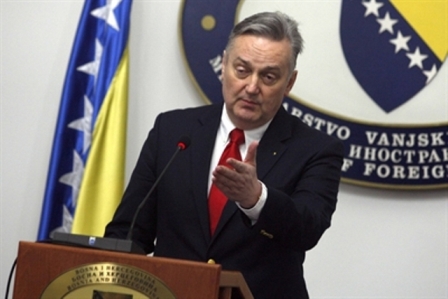 OTHER LANGUAGES
NEWSLETTER ISSUES