- From Brussels angle
INTERVIEW with Jerzy Buzek, President of the European Parliament, Brussels
Progress does not happen in isolation
Mr. Buzek, what would you stress as key advantages of regional cooperation in South East Europe and within Europe as such?
Politics, at any level, happens through partnerships. The European Union (EU) at its heart was founded on the basis of regional cooperation in the Western Europe at a time following devastating conflict. South East Europe can perhaps draw a parallel from this experience.
Regional cooperation in your part of Europe, and in particular in the Western Balkans, is of crucial importance now more than ever as it holds the promise of a greater integration with the rest of Europe. From the EU perspective, a greater cohesion among Balkan states enables a more uniform plan of action for the region as a whole and its future in a European context. Partnerships at a regional level help strengthen all sides and inspire confidence, not least in the EU.
From a more immediate perspective, regional cooperation holds the promise of stronger, more dynamic economies. Trade, competition, economies of scale, employment, travel; these all stand to boost through improved regional integration. If I can be permitted to draw an analogy, as of yet there are no direct flight connections between Zagreb and Belgrade. When I was visiting the Western Balkans just last month I had to drive 5 hours between the two capitals! If the region is to attract investment and prosper these are things that will eventually have to change. Progress will not happen in isolation.
Finally, there is the question of reconciling past conflicts. This again is something Europe is very familiar with. But we are a union of partnerships and here South East Europe has a chance to replace old feuds with a new sense of mutual support and direction. As I have said in the past, it is better to look towards the future than to dwell on the ghosts of the past.
How would you assess the European Commission's Enlargement Package 2011-2012?
Each individual country must be addressed on an individual basis. The Commission's proposals are based on careful considerations in light of the progress made by each state as well as the current economic climate. Each has its complexities and so the question of their accession is addressed accordingly.
In light of Croatia's recent signing of the accession treaty and the granting of a Visa-free regime to almost all the region, it is clear that the EU's enlargement process is at an important stage.
Progress in accession-driven reforms can be seen in most enlargement countries. Serbia is doing well. Others have made only limited progress, but the situation still looks promising. Bosnia and Herzegovina is probably facing the biggest challenge. However, my recent meetings in November with the parliamentary representatives there were fruitful, and I anticipate more palpable progress in the future.
The Enlargement Package also highlights impressive efforts a number of states have made, notably, the arrest and transfer to the International Criminal Tribunal for the former Yugoslavia (ICTY) of Ratko Mladić and Goran Hadžić and initial dialogue between Belgrade and Pristina, to name just a few. However, the package also highlights a number of areas in which the region has fallen short of the mark, namely the violence seen recently in northern Kosovo.
What do you see as priorities for the South East European countries in terms of future regional cooperation, considering the Enlargement Package?
Promoting democracy is a key. I can't stress this enough. The national parliaments are not merely there to pay lip-service. Nor should they be places for political polarisation. Dialogue must be encouraged, between members and between the national parliaments. Until very recently, we witnessed the political stalemate in Albania's parliament. Albania has unfortunately lost precious time on its road to accession and is lagging behind some of its neighbours. That being said, progress has been made recently and I welcome the recent developments that have brought this lengthy stand-off to an end.
Economic reform is also a major priority. The recent global financial crisis and the present difficulties in the euro-zone have made very clear the interdependence of our national economies, both within the EU and beyond its borders. For this reason it is in everyone's interest to consolidate financial stability and encourage growth not only in the EU but also in the enlargement and neighbourhood countries. This, of course, is a process that must be undertaken at the national and regional level first.
There is also the question of improving regional relations that remain precarious. To be more to the point, dialogue between Pristina and Belgrade is and will remain a fundamental issue for progress in the entire region. Following discussions with representatives from both parties, I believe normalisation is within reach, but how much headway will be made for now remains to be seen. I must also mention the importance of respecting Bosnia and Herzegovina's territorial integrity. Serbia has a regional duty to quash any nationalist tensions or partisanship as this entails the danger of drawing the entire region into a deadlock.
What are the biggest challenges for South East Europe in an immediate future in this context?
Naturally none of these challenges can be approached with any hope of success unless it is within a healthy political environment. This is a question of the proverbial house built on shifting sands. Good governance, the rule of law, administrative capacity and social inclusion remain major challenges in most countries. There have been a number of concerning developments in the area of freedom of expression in the media, notably in the Former Yugoslav Republic of Macedonia, and issues of corruption and organised crime, although improving, remain a concern across the board.
How would you estimate compatibility between the Regional Cooperation Council's Strategy and Work Programme 2011-2013 and the EU's enlargement requirements?
Whenever one speaks of cooperation it is important to establish that we share a common goal. The RCC's Strategy and Work Programme and that of the EU's Enlargement portfolio, I believe, are in harmony as they aim for the same results. Enlargement aims to extend the EU's zone of peace, stability, democracy and prosperity. In this regard, I believe the EU integration is of primary interest to the entire South East European region as it serves as an impetus for these positive developments. Needless to say, these are considerable undertakings and there is still a long road ahead of us.
Nonetheless, Croatia's accession is an encouraging message and should serve as an impetus to the rest of the region to accelerate their integrating efforts. This is a message to South East Europe that the EU's doors are open to you and are still in reach.
Jerzy Karol Buzek has been President of the European Parliament since July 2009. Prior to that, he was elected Member of the European Parliament from Poland in 2004. Buzek was the ninth Prime Minister of Poland from 1997 to 2001. He graduated in chemical engineering from the Energy Engineering Faculty at the Technical University of Silesia. He is a professor of technical sciences. He was a research fellow at the Institute of Chemical Engineering of the Polish Academy of Sciences and Humanities in Gliwice.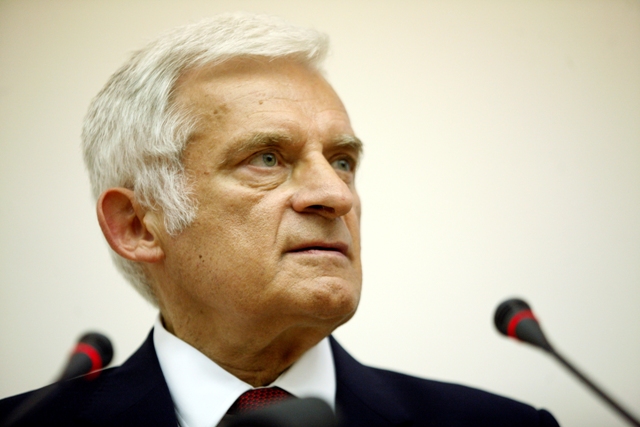 NEWSLETTER ISSUES